This site contains family trees and images of the German-Russian families Zerr and Menzia of South Dakota.
Thousands of Germans from Russia settled in North Central South Dakota at the end of the 19th century and the beginning of the 20th century. Many settled in the Aberdeen area. To get a live look at Aberdeen, click on the logo below. Courtsey of KSFY televsion.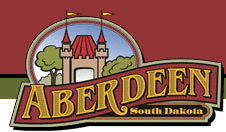 ;
Background
The ancestors of the Zerr and Menzia families originated in western Germany, near France, and Northern Italy. They migrated to the area north and west of present day Odessa, Ukraine. Their villages were part of the settlements on the Kutschurgan River. The Kutschurgan is a small river northwest of Odessa in present day Ukraine. The water in this river flows south through Strassburg into the Dnjester liman and then to the Black Sea.

In the early 1800s Villages were established along this river for immigrants from Alsace, Pfalz and Baden. The majority of these immigrants were Catholic

These Villages and their Daughter Colonies are often called the Kutschurgan Villages. These immigrants, working the rich farmland in this area once produced wheat that was the envy of the world. Many of these early immigrants were not wheat farmers, but truck farmers, thus many had a rough time learning and applying their abilities to the unbroken sod of the steppes.